what happiness looks like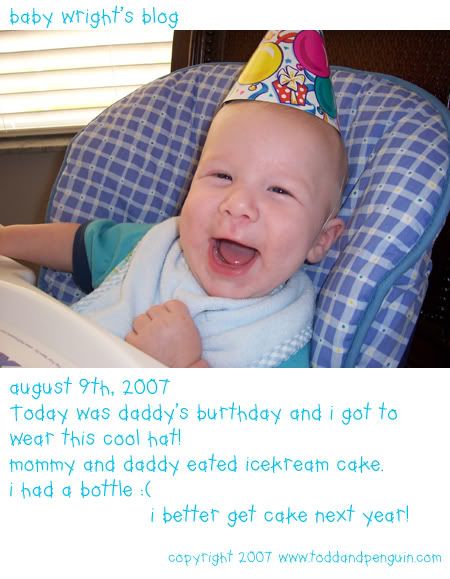 My job search, a nasty cold and attempting to complete a syndication packet has kept me busy the past few days. Todd and Penguin will be back on Monday.

My birthday is tomorrow. Last year, my wife surprised me with a Carvel Ice Cream Cake (mmm) and by having Baby Wright dressed up in a party hat, which might be the cutest thing I ever saw.

Even though I'm jobless and feeling down about it much of the time, the look of pure joy on Baby Wright's face never fails to bring me back up.
Taking Up Space update and around the web
Keeping in tune with yesterday's blog post, Wednesday's Taking Up Space takes aim at a familiar and favorite target - the TV news media.


Around the web:
Lifehacker has a cool video showing one future scenario for web browsing a decade from now. I'm of the mind that large TV/monitors will replace TV's in homes and each family member will have portable keyboards with their own chips which hold settings and data and such which can access any TV/monitor in the home.


Keane has a free new song available for download at their site. (link from Pop Candy)

I'm sure if you read PVP then you already saw a link for this, but just in case you haven't, Scott Kurtz got nailed (and a great free plug) by Triumph the Insult Comic Dog on Conan last week. Check out the hilarious video. I was actually watching Conan when this segment aired and I was cracking up when I saw Scott being interviewed. The rest of the segment is great, though not up to par with the time Triumph went after the Star Wars geeks. (here is the other part of that segment).

Labels: around the web, media hype
Not a funny subject, but um...
The media circus is in full swing for missing child Caylee Anthony. Media outlets from every network and cable news channel have their giant rolling studios camped out on the street where the missing child's grandparents live. Oddly, one local news station decided to do a story on... the media's overwhelming coverage!

And without ANY SENSE OF IRONY!

"Hi, we're from the media and we'd like to interview you on how much the media's presence in your quiet neighborhood is bothering you."

Roll clip.

In comic-related news, Oscar is continuing his war on the family in the latest comic uploaded tonight.

Labels: media hype
state of the website/blog update
A new Todd and Penguin will be up Tuesday. I spent my free time this weekend working on the blog redesign. (Dontchya' love the pretty blog header? No more lame text header.) Not having the time to learn CSS and being limited to Classic Blogger, I was forced to search for an already made template CLOSE to what I want. I finally settled on a template from suckmylolly.com and put in my own header. I have to modify a couple of other things during the week, like adding a label list. Classic blogger is such a pain in the butt! I don't know why Blogger doesn't allow you to export the new blogger system to your own site. Grrrr...

I'm also working on a redesign for Taking Up Space, to make that comic horizontal, rather than stacked vertical, so I can add a blog over there. No, not another blog by me, but a blog by Jessika. She has lots to say, er, I mean complain about.

So, yeah, that's why Todd and Penguin will be a day behind schedule. I know, I know, you all don't come here for pretty site designs and probably want to throw rocks at me when I spend more time on behind the scenes stuff than the comic. I can't help it. I get obsessed with the design side of it and what I want my site to do and offer. And since I don't think moving everything to wordpress/comicpress is a viable option on my server, and would probably blow all the links set up for the archives people have bookmarked, I am forced to find other ways to get the same options such comic/blog sites have.

Note to Tony Piro : I'm still planning to do a guest strip for you. You should hear more in a week or so. And for those of you not named Tony Piro, or who are wondering who Tony Piro is, click on his name to check out his awesome strip. If you like Taking Up Space, you will like Calamities of Nature.

as always, thanks for reading,
dave

Labels: site stuff
Name:
Blogger Dad
Home:
Florida, United States
About Me:
I was a reporter at a Florida newspaper, where I covered city politics and draw editorial comics. Now, I'm a Blogger Dad (click the link for my webpage - the blog on the bottom is for Todd and Penguin) in search of a job and attempting to write a book or four. I'm also a cartoonist, how most of you know me, who draws Todd and Penguin, Taking Up Space and the occasional other titles, featured on KeenSpot.com. I'm married (sorry, all you ladies interested in overweight guys who spend too much time drawing) and have a one year old son and two cats. Three of the above mentioned poop way too much!
See my profile...